Tag: clutch bags
Accessories
Crystal and cinema work their magic. For the eleventh consecutive year, Swarovski is taking its place at the Hotel Martinez for the fortnight-long Cannes Film Festival. This year, the company is customising its new "Star Collector", the "Mybag" clutch, for actresses. Only 80 of these eye-catching clutch bags have been created to ensure their exclusivity.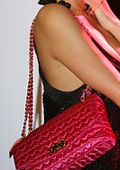 Trends
Accessories, especially those with red color, will capture the minds of all fashion maniacs, according to Spanish media.
Do you know what are the trends for this season? One of the most notable trend during Spring-Summer 2010 will be the red handbags.

This trend has many fashion followers including celebrities who perfectly combine the red with the classic black and white.