New collection by Manuel Bozzi ….. Tres Rockmantique
* Style extension for the Pisan designer whose creativity is forged into a personal and unique "tres rockmantique" female universe.


Manuel Bozzi proposes new style choices, committed in an extension of creativeness toward small amulets forged into silver and bronze with conflicting chromatics. The last creations of the Pisan designer show an evolution from the most romantic and female lines, yet in respect of the rock appeal, acknowledgement of the world brand. Primordial equations, tribal and multi-ethnical inspiration tastes are mixed without degrading to a defined space/time but designer's world.

The new Manuel Bozzi style exercise finds its maximum expression in the absolute novelty of season: a earrings line with unusual taste tres rockmantique. Elements rock in romantic key is typically revisited for an elegant appeal, refined and decidedly female, but with strong and definite rocking character. The jewel that derives is tres rockmantique.

Small skulls, vertebrae and flies are skilled to enchant thanks to atypical combinations with elegant agate drops, citrine, black onyx and rock crystal, Corinthian leaves in worked silver, Polynesian pearls and bright quartzes. Always attentive to details the Tuscan stylist manages combinations that harmoniously leave dumbfounded for their finishing care and original taste in a new well-balanced contaminated atmosphere.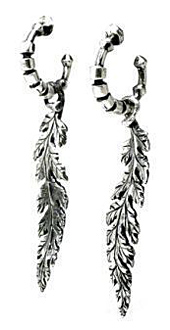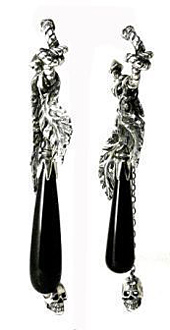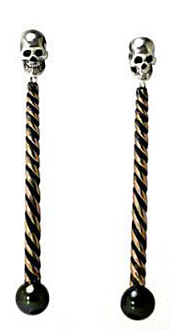 Hits: 8409 | Leave a comment