Autumn collection of Faberge
Autumn has already begun and that means it is time to find the perfect brooch to adorn your trench or some glittery rings to add sparkle to your autumn colors.

Faberge jewelry house is known for its refined products for over a century. Jeweler, Carl Faberge, together with his assistant made a total of 68 jewelery in the shape of an egg in the period 1885-1917. The majority of these were miniature ones that were popular gifts at Eastertide.

Known for their exquisite, gem-covered eggs, Faberge also has a line of luxurious jewelry, ranging from bracelets to rings to brooches.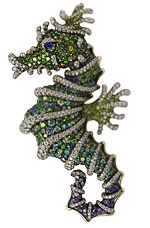 Faberge's collection has three themes: Les Fleurs de Faberge inspired by famous Faberge flower studies, Les Fable de Faberge inspired by Russian fairy tales and Les Fauves de Faberge inspired by the Fauvism and Russian artistic aesthetics at the turn of the century.

One of the most interesting jewelry is the Sadko Sea Horse brooch, covered in white, yellow and violet diamonds, alexandrites, sapphires and tourmalines.

Pricing for the pieces is available upon request. You can find the entire Faberge collection at www.faberge.com.


Hits: 11932 | Leave a comment