Mrs. "Baba" 2011 competition was held in Sofia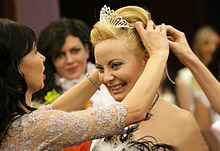 On a special ceremony at Grand Hotel Sofia 44-year-old Daniela Tsvetanova became Mrs. Baba* for 2011. She charmed the jury with her stunning look and skills. Daniela is married for 28 years, she lives and works in Sofia and develop her own business, which makes her absolutely independent. She thinks that it's very important for one woman to maintain and look good, even if she's a grandma. Daniela is the grandmother of 8-year-old boy and a 2-year-old girl.
The first runner-up was Petya Kostadinova from Pomorie, born in 1963 and grandmother of 1-year-old Anton. The second place took 40-year-old Ventsislava Georgieva from Sofia, and the third place was for 47-year-old Julia Nikolchova, who won the jury with folk dances and received the "Mrs. Baba 2011 Artistic" award. The fourth place was for Svetlana Yordanova from Ruse, who impressed the jury with the many crunches she did before their eyes.
National competition "Mrs. Baba" was held for the second time, and this year more than 200 ladies from all over the country wanted to join the contest. There were selected only 17 women aged between 40 and 72, who showed the best of themselves. They had to go through three rounds: first was to present themselves, the second round they showed their talents and marched into the final round in dresses, chosen by themselves. The philosophy of the contest is to show the modern grandmother of 21 century, who does not slave to the family and doesn't spent her time exclusively by the stove and with knitting in hand. During the contest it was held a campaign to raise money for the operation of Galina Dicheva, who unfortunately lost her eyesight in a car accident.

Baba is in Bulgarian and it means grandmother.


Hits: 9869 | Leave a comment