4 Stunning Designer T Shirts 2011 Season
Designer tee shirts are in a class all their own. Although you could easily purchase cheap, 5 dollar clothing at the nearest thrift shop do some t shirt printing, sometimes the only way to attain the quality you really want is by buying designer clothing. Here are four examples of the most stunning designer tee shirts of the 2011 season.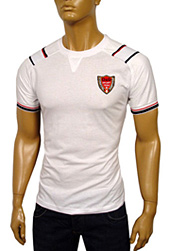 Dolce and Gabbana
Dolce and Gabbana is perhaps one of the most famous designing names in the world. They produce some of the finest quality material and amazing fashions every year. However, they also provide amazing tee shirts that are sure to impress every crowd. This Dolce and Gabbana short sleeve tee shirt is unique. It is a standard solo piece of clothing or can be worn in a layered outfit. It is also100 percent cotton. There are only limited numbers of this tee shirt in outlet stores, but if you go straight to the designer you have a better chance of buying the original before they discontinue the style.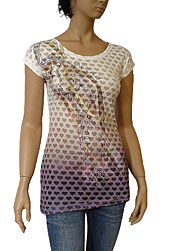 Gucci
Gucci has been providing the world with high fashion for years. From their accessories to their clothing, their quality is nothing but the best. This tee shirt is a short sleeve top. The pattern is simple - intertwining buckles and belts wrap around the front of the shirt, while the fabric itself is a pattern of hearts. The neckline is a basic scoop neck and fabric has a bit of stretch around the shoulders. It can be layered under any jacket or sweater, or worn alone for a more dramatic effect.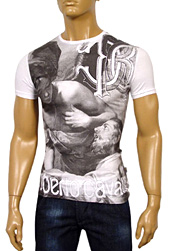 Cavalli
Just Cavalli tee shirts are designed by parent company Roberto Cavalli, a genius at creating trendy, rustic styles that look great on everybody. This specific tee shirt is a basic white color, the fabric soft. On the front is a black and white graphic, artsy image that reflects Cavalli's signature style. The back of the tee shirt is completely white. It's the perfect example of an easy, laid back style.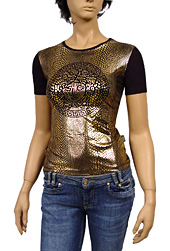 Versace

Versace creates designs that are meant to impress. Whether they do so in understated clothing or embellished sunglasses, they do it effectively. When it comes to tee shirts, they put their own unique spin on an average design. This animal printed pattern is shimmering with gold color atop of a chocolate brown background. This season the shirt has been updated for 2011 by coupling this look with Medusa's likeness. The back panels of the shirt are completely black. It's one of the most sought-after designs, and continues to evolve with the fashion seasons.




These T Shirts can all be bought from The Fabulous Milan Boutique and online from //www.dolcefugo.com


Hits: 13782 | Leave a comment