17th edition of Amsterdam Fashion Week
The seventeenth edition of Amsterdam Fashion Week (AFW) took place from the 11th until the 15th of July on the Westergas Area (Cultuurpark Westergas) in Amsterdam. Both renowned designers and upcoming talented designers show their latest collections to fashion professionals.
The fashion week has started on Wednesday night with shows of two talented Dutch designers. Claes Iversen made a big impression with his Spring/Summer 2013 collection. His designs are formed from fragments, sometimes already shown on his earlier creations. Marga Weimans has done the second show of the opening night and gave an impressive fashion show, consisting of designs for which she got her inspiration from cities and architecture.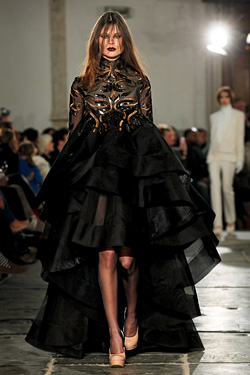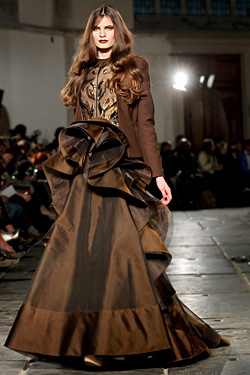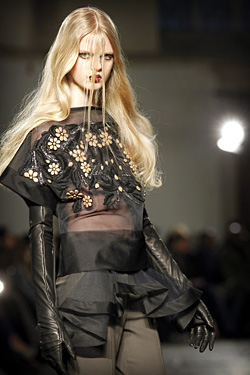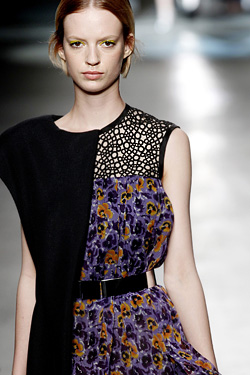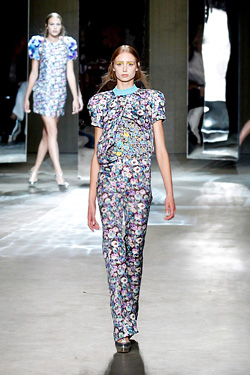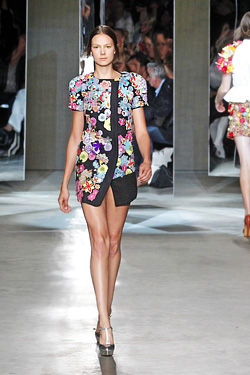 The Spring-Summer 2013 collection of Claes Iversen starts with sobriety and monotone colors and finishes in a flowery and fresh whole. 'Flying debris' find each other and come together in designs formed from fragments, or from before-seen creations of Claes: the iconic Rose Dress from his 2007 collection for example has become a part of the final dress from this collection. Elements from different periods merge and modernity translated into femininity remains an important theme.
For Marga Weimans this was the first time she gave a catwalk show during Amsterdam Fashion Week. She is known by participating in various exhibitions and presentations in Paris. Cities and architecture play an important role in her collection and are reflected in material, color and shape. Interactivity is key. Highlight of her collection was the 'Vodafone Dress', a dress consisting of three hundred mobile phones. The mobile activity ensures that the dress is put into effect and changes color when dialed by the audience.
Immediately after the show Weimans took the audience into the story behind her designs by launching a large installation called Fashion House, in which she shows her inspiration and innovative technology. This Fashion House literally gives insight into the dream future, the rationale and design process of the designer.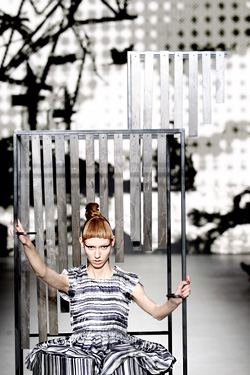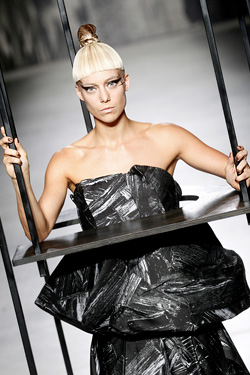 Their collections also presented Tony Cohen, Edwin Oudshoorn, Elise Kim, Danish Gestuz, Winde Rienstra, Marije de Haan etc.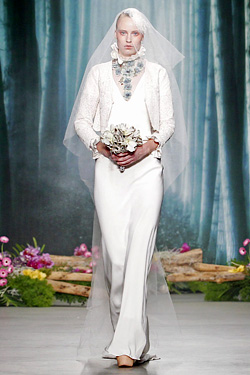 Amsterdam Fashion Week was established in 2004 to position the Netherlands, and Amsterdam in particular, as inspirational and internationally oriented fashion destination. Amsterdam Fashion Week has grown into the semi-annual fashion event in the Netherlands and enjoys plenty of interest from both Dutch and foreign press.

Amsterdam Fashion Week celebrates Dutch fashion talent, builds bridges between creativity and commerce and seeks for international connection. With fashion shows, trade shows, presentations, lectures, private training and a business programme, Amsterdam Fashion Week brings designers, labels, buyers, press, agencies, creative industries, government and semi-government and investors together. The official catwalk programme, Amsterdam Fashion Week Uptown, and the business programme focus mainly on professionals from the fashion and related industries. They take place at the Westergas area (Cultuurpark Westergas) in Amsterdam. The public programme, Fashion Week Downtown, takes place mainly in the inner city.


Photos: BGNES/EPA


Hits: 8259 | Leave a comment