Dior make-up with Swarovski crystals for Spring-Summer 2013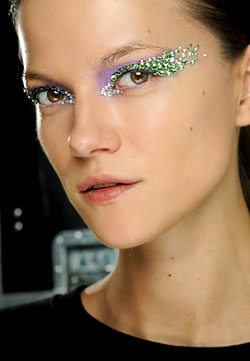 We saw a lot of interesting creations for Spring-Summer 2013 at the catwalks in New York, London, Milan and Paris, but it was the Dior make-up that was spoken of so much.
It was created by Pat McGrath, who called it "techno butterflies". She used highly pigmented eyeshadow in bright colours, mainly blue, pink and orange hues. Delicate Swarovski crystals acted as an accent, highlighting the "winged" eyeshadow and around the inner corners to draw attention to the eye.
Although this make-up is more appropriate for evening events, the core elements can still apply to daytime beauty looks.





Hits: 12548 | Leave a comment