The French Christmas lunch is most healthy
The traditional British Christmas lunch is the most unhealthy in Europe and it contains 7000 calories, a new study shows.
The typical lunch consists of 30% sugar and contains 69 grams of fat and 211 grams of carbohydrates. Christmas lunch in France is a healthy menu including many raw food. Typical French Christmas menu consists of roast chicken, foie gras and 13 desserts, but contains only 46 grams of fat and 29 grams carbohydrates per person.
The 13 puddings represent Jesus and the 12 Apostles. Traditionally they are served on Christmas Eve and remain on the table three days until December 27. Actually, the 13 desserts include many nuts and fruits and they are healthier option for Christmas than the British pie which is full of cream.
Czech Republic has the second most healthy Christmas menu consisting of fish soup, cold potato salad and sauerkraut.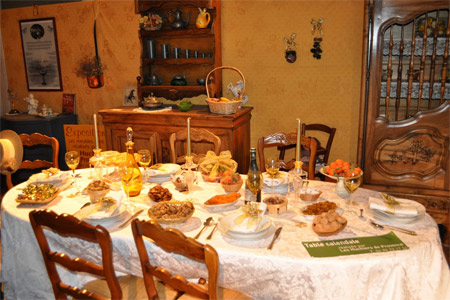 Germany has the third most unhealthy lunch because the increased presence of sausages. "Christmas is the time for full meals and enjoying the food, but some European countries have dishes that give less reason for people to feel guilty. Hopefully, some people can be inspired by the way their European cousins celebrate this day, and consider to include some healthy foods on the menu of their families", said a speaker of Lifesum. She carried out the study as a survey among employees of the embassies of European countries in London for traditional dishes for Christmas in their homeland.

Poland, Portugal and Austria also enjoy a healthy Christmas lunch, followed by Hungary, Norway and Russia.

BGNES


Hits: 8380 | Leave a comment