World Fashion Week Review of Fall/Winter 2014/15
Fashion weeks have record history of bringing the stunning collections on the ramps and stealing the shows. The designs always have covered massive target-markets which included traditional collections, vintage patterns, modernistic skirts and tops, wedding dresses, mother of the bride suits and much more.
Past few weeks were illuminated with ravishing collections revealed on the ramp by world best designers. The world extensive fashion weeks unveiled some of the finest collections for fall/winter seasons. Check it out!
New York
The first fashion week happened in New York which revealed diversified collections. A deep young look has been seen with floral top in soothing color combinations with prominence of woven jacquards (below left). The rich colors such like patterns of red, orange and berries have also been used by many designers in exclusive fashion weeks including 3.1 Phillip Kim and Alexandre Hechcovitch.
The fashion exhibition includes many fascinating details which includes themes from old traditions and exceptional crafts. These designs seem to have made by artistic hands. Such themes have perfectly created by Mara Hoffman who designed a stratified and trimmed 2 piece suit using a latest novel fabric. Other than folkloric designs, some nontraditional dresses have a combination of expert cuts into long flowy coats and skirts (see below right).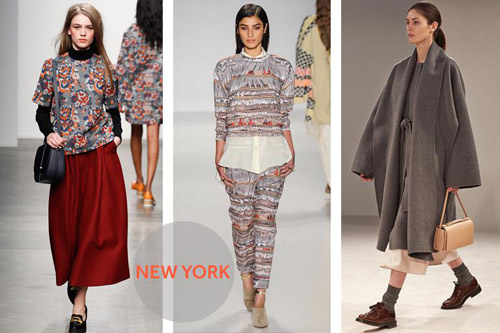 London
London designers have a great appreciation for dark colors. This time, fashion week seen classic touch of dark blue with maroon and orange shades. The check and textile patterns are forever-fresh in London designers' mind who never wishes to create something new aimlessly. A boyish design has been made Margaret Howell with exceptional prominence of border lines. Mary Katrantzou seems to have inspired from using different pieces together in a unique and creative way. She also knows how to do the perfect color contrast in a metro and contemporary style. Her catwalk look (see below right) is both the combination of colored water-falls and organized art.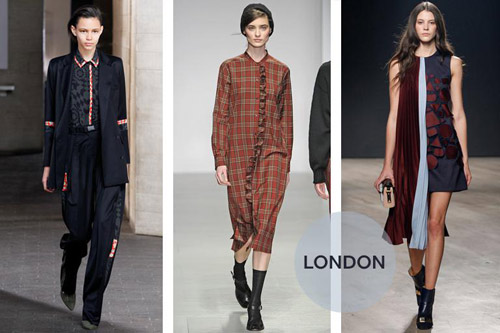 Paris
Paris like always showed latest fashion designs will full package of versatility and variety. Classic metallic ornamentations and stunning accessories were seen on the ramps. The French fashion house "Chloe" made the stunning combination of evening birds and finest vintage architectures on skirt (below left).
A dazzling beauty seen on the runaway with blue crystal shines and a lovely elegant jacket with vests giving a rock star look. Another success was the diversified triple prints in triple pieces which both had day and night look.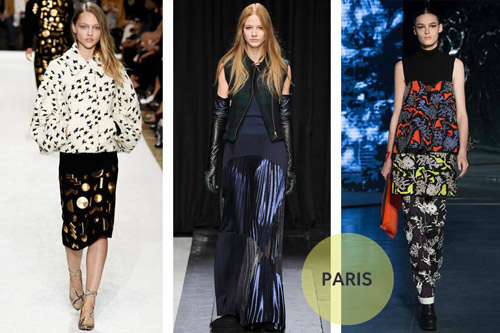 Hits: 89544 | Leave a comment