Parvoleta Ivanova opened the fashion season in Rousse
* On the exquisite fashion show were presented in two parts leather garments in sport-ellegant style and formal boutique apparel
The designer of fashion house Charlino - Parvoleta Ivanova opened the fashion season in Rousse with an exquisite show on 28 February in the fashion gallery of the company.
Black, white, red, pink and blue are the most used colours in the leather garments in sport-elegant style, presented in the first part of the show with the collection "Letitsia in leather". The trousers and the jackets follow the body silhouette

and they are elegantly trimmed by broad or narrow belts, falling on the hips. The clothes are decorated with beads and zippers, which make them unique and finished. The collection includes a big variety of different trousers - straight classic or full in the lower part, flared trousers and "jeans" type.
Impresses by the original and practical models of the young designer, who studies fashion design for third year in the Free University in Varna, the audience expected the second part of the show with impatience. In the second part were presented formal boutique dresses.
Following the world fashion trends for the season, the clothes have an elegant line, discreetly uncovered back and ruffles. The skirts are with asymmetric hemlines, the upper part of the dresses is decorated with beads and stones, which are sewn by hand. The models are in different colours, the light colours prevail - red, orange, pink, white, blue, gold. For those who like the classic black is designed an impressive model in retro style. The dresses are made of tulle, silk and leather.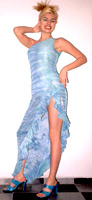 Photos: Models from the spring-summer collection 2002 of Fashion palace Charlino
© Charlino


Hits: 5056 | Leave a comment