Tag: Parvoleta Ivanova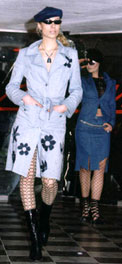 Fashion collections
The young designer Parvoleta Chavdarova (Leticia) presented her collection spring-summer 2003 "Provocative" for fashion house Charlino on an exquisite fashion show in the city of Rousse.

The collection contains 48 models of formal toilets and teenager garments. The youth models are in sport-elegant style and most of them are influenced by the 60s and 70s of the past century. The collection abounds in clothes with broken up silhouette and provocative vision.

The colour palette is in ecru, beige-brown range of colours and the major part of the models are in stylish white, which would be very hot this season. In 2003 the fair shades of pink and blue are also in fashion.
Fashion shows
The designer of fashion house Charlino - Parvoleta Ivanova opened the fashion season in Rousse with an exquisite show on 28 February in the fashion gallery of the company.