Fresh puff in Forum Bulgarian Fashion
* The masters: "Viktoria Unique", "Galinel", "Enita", Atanas Paruchev, Maria Nedkova, Elizabeth Mihailova and Fani Papadopulu
Good symptoms of quality change were noticed on the last edition of Forum Bulgarian Fashion with an honorable chairman Ivan Chalakov and face Emilia Kushvalieva. At the end of March the International exhibition center was again a host of the National fashion review. In their prognoses for the spring-summer fashion a considerable part of Bulgarian masters of sewing and fashion staked on variety, freshness and sporty practical components.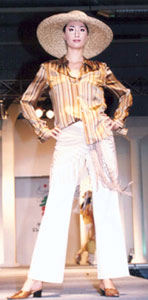 Among the recognised designers much admiration deserved Maria Nedkova (she received one of the big awards), Djina Nick, Galina Dencheva for "Galinel" and Elizabeth Mihailova for "Nuel" (also among the winners). Their success is due to their flexible adaptation to the new trends and their aspiration for real and not overdressed fashion.
A great hit was the fashion house from Varna "Viktoria Unique", which continues its golden series which began last year (with an award in Madrid), and was crowned with the most prestigious prize in the Forum. Along with that it proved the inseparable connection between the neckties and the show.
Stefka Prodanova (for "Sevko") and Dessi Moskova (for "Modus art") confirmed their undoubted professionalism. A great success and progress marked Milka Alexandrova - Buchi, whose noble Americanism was adequate to the new hits in style. On a high level were as well the younger Kamelia Popova and Nina Todorova, the fashion houses "Leopard" (winner of an award) and "Mon Amour", and Diana Atanassova, who showed undoubted sense of elegance and new vision.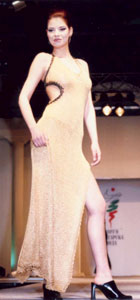 The most considerable fashion event for the season - Forum Bulgarian Fashion, now has the real chance to start applying the experience of the related organisation structures in England, France and the United States - the so called Advises for fashion or Fashion chambers. This means the different fashion houses to be represented in separate reviews with breaks between them and those defiles to be differentiated in a time schedule. In this way it would be possible to stress the attention on the influence of the designer or fashion house on one hand, and on the other hand the audience would be immune to the boredom, which is caused by a show lasting more than 1-2 hours. To this recommendation can be added the need of a bigger exactingness to some of the participants in the reviews in the Forum, who allowed low quality of garment manufacturing, and a good-will warning of the risk of the many awards, which were given (29 awards) by the organisers to designers and journalists, and even to itself.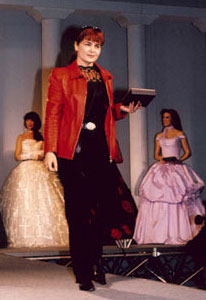 Regardless of the recommendations, Forum Bulgarian Fashion is the biggest fashion event and its last edition showed a growth in Bulgarian design and a sense of modern and fresh ideas. Among the important guests of the event were Ana Sendova, Ginio Ganev, the deputies Milena Milotinova and Uliana Doncheva, Hristina Djundrekova, owner of the chocolate company "Sofcao", Ivayla Bakalova - Miss Bulgaria 2001 and many other representatives of Bulgarian art and business egalitarian society.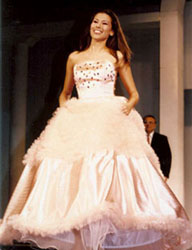 Photos:

1. Model of "Viktoria Unique"
2. Model of Kamelia Popova
3. Model of Diana Atanassova
4. Polia Milanova - chief designer of "Mon Amour" among the awarded in the Forum.
5. Emilia Kushvalieva - face of Forum Bulgarian Fashion 2002

Photographer © Galin Nenov

© Lubomir Stoykov
All rights reserved!


Hits: 40409 | Leave a comment