Teresa Rosati fashion show
The fashion show of the polish designer Teresa Rosati took place in Warsaw in the Grand Theater.

Teresa Rosati is a designer of occasional wear and evening wear for VIPs (especially for wives of ambassadors and diplomats from various
countries who are on diplomatic posts in Poland).

She says: "Elegance is not only conducive to our well being but also it is a key to viable social and business contacts. It is also prerequisite to
success. I design clothes for modern, active women who wish to feel elegant and charming throughout the day. In a nutshell, the clothes I design have three things in common: high quality fabrics, simplicity of the cut, and attractive additions".

Teresa Rosati designs also about 10 wedding dresses each year, all of which are created on a special request of her clients.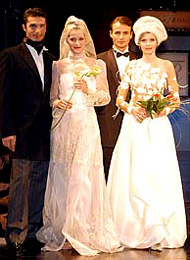 Source: moda.com.pl

Photo © Epoka



Hits: 7259 | Leave a comment