Virginia Zdravkova and Agressia won "Golden needle 2003"
* Other winners of the most prestigious fashion award in Bulgaria are Ivan Chalakov, Valentin Mechanov, Irina Sardareva and Kiril Chalakov
On great interest and very splendid and stylish passed by the official ceremony of 10th anniversary Bulgarian Fashion Academy Awards Zlatna Igla 2003 /Golden Needle 2003/. The gala-evening for voting and handing the most prestigious fashion awards in Bulgaria was on March 13th, 2004 in Inter Expo Center. The Fashion Academy /launched in 1993 in Paris by Donka Ganeva and Lubomir Stoykov/ proof that the most impartial assessment of the fashion design achievements belongs to the Fourth power - of the fashion journalists.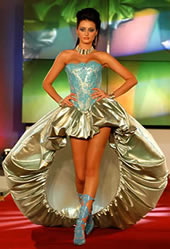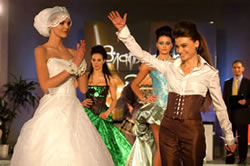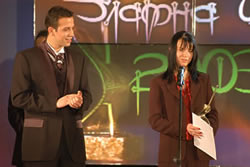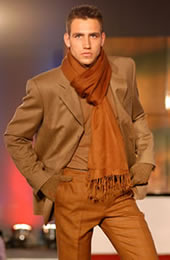 And the winners are: Designer of the year and winner of Zlatna igla 2003 for personal contribution to the Bulgarian fashion design became Virginia Zdravkova /Virginia atelier/, Fashion house of the year – Agressia /manager Maja Asenova/, Fashion photographer – Valentin Mechanov and winner of the award for total contribution to the Bulgarian design - Bulgarian Fashion Forum in the face of its chairman Ivan Chalakov.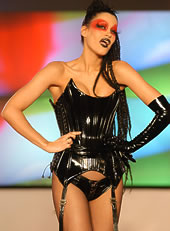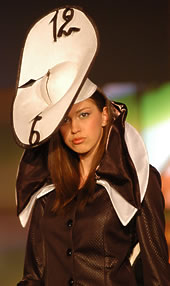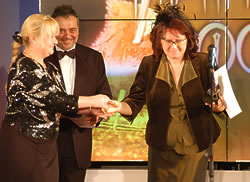 In the two newfound categories Fashion make-up and Accessories, the majority of votes went respectively to Kiril Chalakov and Irina Sardareva which also took Zlatna igla. You must know that the beautiful plastic is traditionally designed by Bulgarian jeweler Angelo Krassini. During the show were presented very successful collections and designs by the other nominated designers, fashion houses, make-up artists and photographers respectively Milka Alexandrova – Buchi, Maria Nedkova, Nelly Koleva, Viktoria Unique /neckties/, Aries Unikat, Totka Docheva, Bozhidar Markov, Tomas Imov etc. In the attractive shows also took part pretty ballet-dancers from the National Opera, Galja and Miro from Karizma duet, Nelly – TV-reporter of bTV television show Ogledala etc.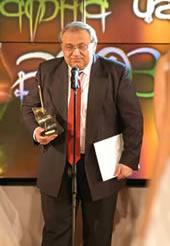 34-member journalist jury took their vote for the masters of needle and thread, for the best professionals in Bulgarian fashion art of 2003. For 10th year Lubomir Stoykov was chairman of the jury /he is also vice-chairman of Fashion Academy/. In the jury were Donka Ganeva – chairwoman of the Fashion Academy, Niki Kunchev /"Stani bogat" – "Who wants to be a millionaire" and Darik Radio/, Vessela Slavcheva / "Moda" magazine chief editor /, Luba Rizova – bTV News chief editor, Lilia Vouchkova /Bulgarian National Television/ and other colleagues: Nada Nesheva /"Trud" /, Maria Raicheva /"24 chasa"/, Julia Valkova /"Sedmichen trud"/, Boris Angelov /"Monitor" and "Koi"/, Silvia Kavdanska /Fresh Radio/, Maria Netsova /first editor of "Vsichko za zhenata"/, Toni Raponska /Kanal 3 Television/, Albena Atanasova /"Standart"/, Silvia Todorova /Fashion bg/, Nevena Vassileva /Balkan Bulgarian Television/, and popular fashion journalists as Vasilka Garelova, Vanja Ovcharova, Lili Maslova, Ivailo Dimanov etc. Technical committee chairman was Stamen Iliev.
The Fashion Academy sparkling show and official ceremony of Zlatna igla 2003 was honoured by many VIP guests as: Parliament deputes Irena Varadinova and Ivan Pavlov, Silvia Vasileva – wife of vice premiere Nikolai Vasilev and also the celebrity Julia Bull with painter Nikolai Panajotov and a beautiful prima ballerina with them, prof. Gredi Assa, business lady Krassimira Bogdanova, high-life journalist Evgeni Minchev and many others admirers of fashion and beauty.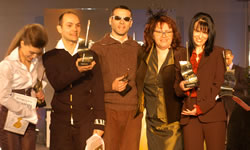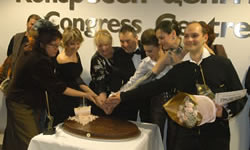 Zlatna igla ceremony was hosted by Mariana Vekilska /bTV/ and her intended husband – radio-journalist Simeon Kolev. Main sponsors of the evening were: I.N.A. Trading, Lavazza, Vsichko za zhenata, Bulgarian Business Papers KRAS, Pizza Hut – Bulgaria, Pepsi – Bulgaria, Balkan Multimedia System, Flowers Boutique Feite, Markrit Pastry shop and of course Inter Expo Center. The fashion show performance was by Amalia Tincheva and the hair-styling by Mitko Damov and his team.
Photos:
1.Model of Virginia Zdravkova – designer of the year, Zlatna igla 2003
2.Virginia Zdravkova and her models
3.Model of fashion house Agressia – fashion house of the year, Zlatna igla 2003
4.Maja Asenova, Agressia manager with the Zlatna igla plastic in hands
5.Ivan Chalakov thanks to the Fashion Academy for the great honour
6.Lubomir Stoykov - chairman of the jury, announcing the winner in Accessories nomination
7.Irina Sardareva model – Zlatna igla 2003 for accessories
8.Donka Ganeva and Lubomir Stoykov greeting Irina Sardareva
9.Model of Kiril Chalakov – Make-up artist of the year, Zlatna igla 2003
10.Kiril Chalakov thanks the Fashion Academy for the award
11.Valentin Mechanov thanks the Fashion Academy for the award
12. Winners of the 10th nominations of Zlatna igla /from left/: Virginia Zdravkova, Kiril Chalakov, Valentin Mechanov, Irina Sardareva and Maja Asenova in front of cameras at the end of the ceremony
13.Members of the Fashion Academy and some of its winners for 2003 cutting the anniversary cake of 10th nominations of Zlatna igla
Photo: © Moni Frances
© Lubomir Stoykov
All rights reserved!
Hits: 16672 | Leave a comment