Juliana Doncheva is the new muse of Matis
* French high cosmetics boutique supports the charity in Bulgaria
On May 19, 2004 was officially opened the representative boutique for French professional cosmetics MATIS – MATIS Beauty Center. Alfa International with executive director Hristo Petkov is the official representative of the high cosmetics line in Bulgaria. He together with the charming deputy Juliana Doncheva, who is also a muse of MATIS for Bulgaria, cut the band. It was also Juliana Doncheva' initiative every month by special humanitarian program to be allocated special charity funds. On May 24, 2004 the first donation was made – a video-camera for the school in Madara Village, so the children would be able to impress the very joyful moments of the school everyday life. Soon are expected another donations for the Actor Establishment in Sofia and other social destitute.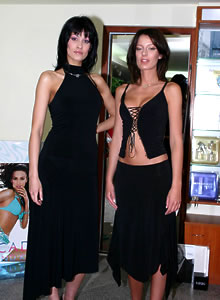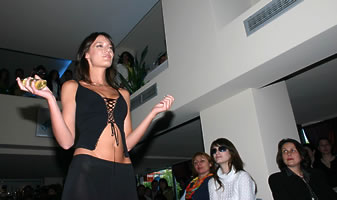 Hristo Petkov, Teodora Mladenova - advertisement manager for MATIS in Bulgaria and Kiril Chalakov - guest-make-up artist, gave the start of the event with their welcoming speeches to all guests. Famous models as Gergana Guncheva – Miss Bulgaria 2004, Vania Peicheva – Miss Bulgaria 2000, Teodora Velinova – Top Model 2003 and Elena Garbeva – top model of Visage Model Group presented the world famous perfume labels DIOR, YVES SAINT LAURENT and DOLCE & GABBANA on the catwalk. The boutique also offers luxury fragrances of LANCASTER GROUP, ESCADA, ROSHAS, TRUSSARDI, PACO RABANNE, CAROLINA HERRERA along with the full line of MATIS products. On its second floor which is devoted to the accessories you can choose your favorite sunglasses from famous trade-marks, color contact lenses or jewelry, as well as the exclusive service of Kiril Chalakov' make-up studio, who with the help of his work-team will take care of ladies' beauty perfection.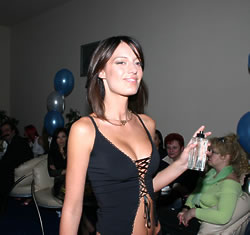 MATIS Beauty Center takes as a priority its customers, giving them the chance to win a silver, gold or diamond MATIS necklace. During the show Visage Model Group charming models demonstrated these special presents. Gergana Guncheva and Vania Peicheva presented the silver necklaces, Elena Garbeva – the gold one and Teodora Velinova – the diamond MATIS necklace.
One of the greatest admirers of the elite French fragrances is the musician Stoian Zahariev, who sent his musical wishes to the guests. Among them were the Bulgarian prima Lili Ivanova, Vasil Petrov, Mr. "Who wants to be a millionaire" ("Stani Bogat") Niki Kanchev, Silvia Vasileva – vice–primeminister Nikolai Vasilev's wife, baroness Mariana Gendovich; businesswomen Krasimira Bogdanova, Maria Teofilova, Ralica Hoffshteter etc.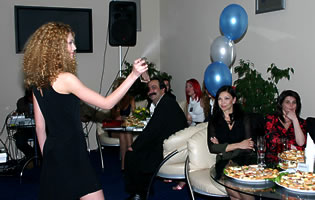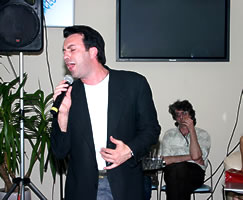 Photos:
1. Hristo Petkov – executive chief of Alfa International Company (official importer for MATIS in Bulgaria) and deputy Juliana Doncheva – the new muse of MATIS in Bulgaria, cutting the band of MATIS Beauty Center;
2. Hristo Petkov, Juliana Doncheva and Lubomir Stoykov in front of MATIS Beauty Center on 76, Vitosha Blvd.;
3 - 7. Visage Model Group models Elena Garbeva, Vania Peicheva, Gergana Guncheva are presenting the world famous perfume labels from MATIS Beauty Center;
8. Top models Teodora Velinova and Elena Garbeva posing respectively with diamond and golden MATIS necklace;
9. The musical performance of Stoian Zahariev
Photographer:
© Ivan Vasilev
© Lubomir Stoykov
All rights reserved!
Hits: 24664 | Leave a comment