A Victoria Unique Necktie - a Wonderful Gift for St. Valentine's Day
Victoria Unique Fashion House has developed unique neckties in a Microfantasy style that are a suitable gift for Valentine's Day, honoured by all people in love. These neckties are a masterful combination between the classical forms and the colours of neckties with small heart patterns, symbolising the love lovers share between them. The connoisseurs of men's neckties can see and order the unique Valentines only on the Internet.

"You can achieve a real furore and a lasting impression by giving the truest male accessory - a Victoria Unique necktie - as a present", the renowned fashion critic Assoc. Prof. Lubomir Stoikov states. "A symbol of manliness, prosperity and luxury, it has always been and will remain a wonderful men's jewel, honoured by each self-respecting gentleman. This is also the best way to impress your male spouse or your best friend. Presented in a suitable deluxe company packing, made by wood and leather, the Victoria Unique necktie will leave an unforgettable memory that can be handed over from father to son".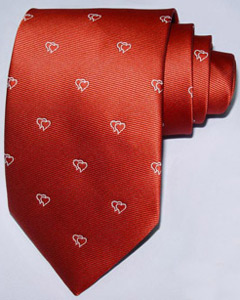 Photos © Victoria Unique


Hits: 7208 | Leave a comment