Academy for fashion closes the fashion season in a remarkable fashion show
A spectacular gala-eveninig of the Golden Needle Award winners

Academy for fashion closed the fashion season in a magnificent and ritual way. The event took place on 12th july 2005 in Vitosha Park Hotel. The chairmen of the Academy and hosts of the evening Lubomir Stoykov and Donka Ganeva gathered the best Bulgarian creators.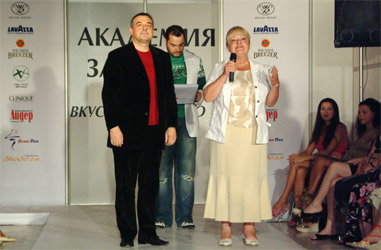 Some of the winners of Golden Needle Award walked on the scene this evening. One representative model of their last collections showed Maria Nedkova, Fani Papadopulu, Jana Jekova, Neli Koleva,
Maria Micheva, Evgenia Jivkova for "Jeni Style", Virginia Zdravkova for "Virginia atelier", Mariela Gemisheva, Yordanka Chernaeva, Natali Genova, Darina Manchenko, Mira Bachvarova, Irina Sardareva, Georgi Kolev, "Aries Unikat", "Rila Style", "Enita", "Tcanevi atelier" e.t.c.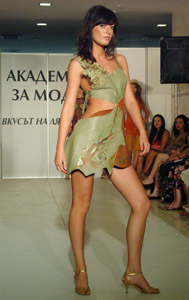 All guests of the event enjoyed the gala-spectacle, which brought the fresh summer breath and spirit. Different fashion houses like "Irida", "Tani", "Junona", "Lusil", "Venera", "Valdini", "Princesa", swimming suits "GST", "Galant" shoes and others showed models from their last summer collections.
The Bulgarian trade mark "Kwiat+" proved that sunglasses will be a needed fashion accessory during this summer. Fashion houses "Miró" and "Arda Russe" showd their autumn-winter 2005/2006 propositions. Boutiques "Diva" and "Divine", whose apparel combines elements of the so actual patchwork and ethnostyle, were official guests of the fashion party. The attendants were allowed to taste the exlusive edition of the productuion of "Vinprom Russe"'on a special degustation.
A lot of famous person honoured the review–spectacle and gala evening "Taste of summer". Among the invited showed up the names of Antonia Parvanova and VeselaDraganova - members of Parliament, Maria Novak – president of the International Women's Club of Sofia, Dora Black –
manager of "Triumph International" (Sofia), Natalia Kazakova – manager of "Vinprom Rousse", baroness Mariana Gendovich, Minu Staykov – manager of "SIS Industries", Miroslav Pechev - manager of "Sofstok" and owner of Vitosha Park Hotel. Actors Biliana Petrinska and Svetoslav Peev, Mira Badjeva – chief editor of Jenata Dnes Magazine and many other representatives of media also attended the event.
Some of the most famous topmodels and Miss Bulgaria winners walked in the lobby of the luxury hotel. Among them showed up the names of Teodora Velinova, Elena Tihomirova, Tania Endjova, Elena Garbeva, Alten Alieva, Diliana Popova, Emilia Kushvalieva, Stela Stoykova, Elena Angelova, Iana Marinova and others. The staging was made by Amalia Tincheva. The "Clinique" team looked after the make up and the hair-styling was made by "Bona Dea" hairdresser's.
The popular TV star Dragomir Draganov was the host of the review–spectacle. He demonstrated his artistic talent and presented a song from his repertoire.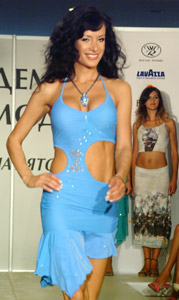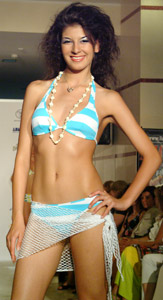 For the implementation of the review-spectacle and gala evening "Taste of summer", active support gave: "Lavazza", "Bacardi Breezer", Vitosha Park Hotel, Lider Magazine, "Nedelia" pastry shops, "Bella Donna", "Pizza Hut", "Visages Model Group", "Galant" shoes.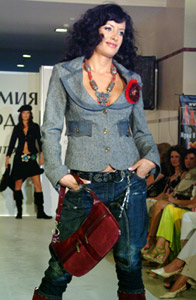 In our next publications we will give you much more information about the collections of the fashion houses, which took part on the review-spectacle "The taste of summer".

© Lubomir Stoykov
All rights reserved!


Hits: 8961 | Leave a comment