Maria D'Gatta mixes colours and fabrics
Galina Kondova
Zdravka Kardjanova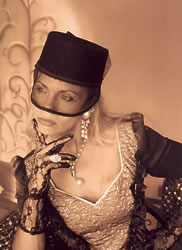 Some of the presentors of the new generation Bulgarian designers grab the attention with an original thinking and striving for copious artistic inventions. Designer Maria Koteva (Maria D'Gatta fashion house) is one of those young creators. By the spirit of the world traditions in fashion, she will present her newest collection spring - summer 2006 during an ellegant review before the end of the year.
In her former proposals, Maria Koteva choses Japanese prints, herbal and animal patterns and both extremes in lenghts – ultrashort and long but with deep slashes. Her favourite fabrics are cotton, natural silk, shiffon and leather. Maria preferes red, blue, green and other colours. Japanease mini dresses with corsets and her personal interpritations of kimono are some of the accents in her work.
" I create clothes for the women, who believes in herself, and who is somewhat selfish. I can dress her in a suit and she will look sexy without being vulgar" fashion creator frankly shares. She realizes that in the sphere of fashion design there is nothing to be discovered. In her opinion, she can be original wih her way of combinating different parts of apparels and accessories.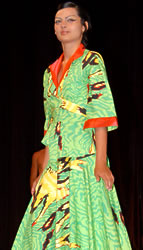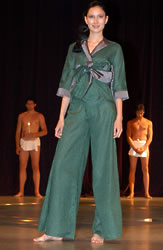 Maria Koteva, who descends from Magadan, Chukotka, has graduated Fashion College "Maria Luisa" believes in mix as a method of working. Her style is a result of her dancing and choreographic abilities and her inspiration comes from theater and old movies. Her ability to create a contemporary styling stands on the phylosophy that real fashion is the original combination of ideas, colours and fabrics. She likes Roberto Cavalli and Jean–Paul Gaultier, but her unforgettable idol remains Gianni Versace.


1.Designer Maria Koteva
2.– 4. Models from collection 2005
Photo: © Bojidar Markov

© Lubomir Stoykov
All rights reserved!


Hits: 12756 | Leave a comment