Miss Bulgaria Universe conquers Los Angelis dressed by Astella Atelier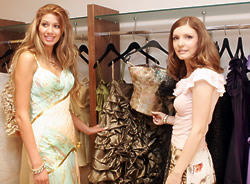 Dressed by Astella Atelier, Galena Dimova - Miss Bulgaria-World 2006 is getting ready to conquer the competition "Miss World 2006" in Los Angelis. Author of the unique dress is the designer Alya Milusheva.
After analysing Galena's skin, hair and eyes the designer chose a toilet designed in peach and turquoise colours with a slight golden spice. She also considered the competition requirements, which don't tolerate quite uncovered dresses and a lining of natural skin colour should be used under any transparent materials. The dress outlines the body shape and the fabric falls down airily with skin caressing. An allusive slash, fine neckline and a perfect style sculpture the body and underline Galena's charm.
In order to be exquisite and unique on the special dinner-party Galena took another toilet by Astella Atelier - ornated skirt and golden corset with french lace.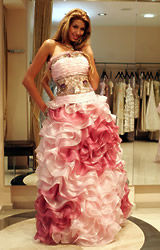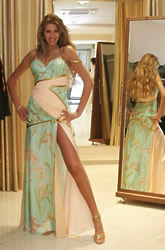 The competition will be held on the 23th of July in LA. The event will be broadcasted live on NBC.

Photos: Astella Atelier


Hits: 9463 | Leave a comment