EDITH A'GAY collection Spring-Summer '07
A few day's ago Austrian/Hungarian fashion designer Edith A'Gay presented her new collection "Conversion" spring-summer 2007 during the fashion week in Paris, in Espace Saint Martin.
Edith A'Gay's new collection is based on the principle of conversion.
In the context of metamorphosis the outfits are variable due to the creativity of the person wearing them. This idea leads into the twilight zone of colourful fantasy and straight geometric silhouettes.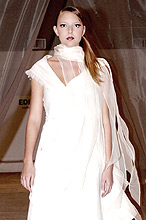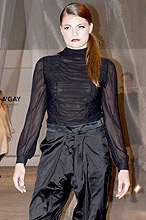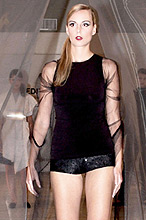 The first time was the collection completed with shoes and boots, designed also by herself, from the same material like the outfits, also high quality jaquard-silk, combined with the finest glove-leather in bright color's red ,
gray and black.
All of the shoes are remembered of the style of 30th, with a little touch from
man's shoes, likes "dandy".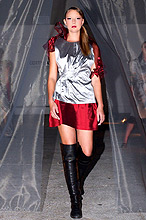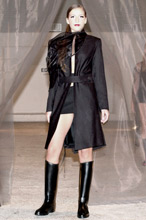 Edith A'Gay describes her unique style as "reduced contemporary elegance for everybody and for every moment, and individually transformable outfits for one's image to celebrate the everyday". In her collections, the usual strong line is combined with fine, erotic and feminine elements.


Hits: 8930 | Leave a comment