Iconic by Max Mara for Spring/Summer 2015
Dominique Sanda in 'The Garden of the Finzi-Continis' and Anjelica Huston in the Max Mara images taken at the Grand Hotel et de Milan in 1971 are the style icons that inspired Max Mara Spring/Summer 2015 campaign..
Unconventional women who redefined the concept of beauty, like those described in Serge Gainsbourg's 'Laide Jolie Laide'-which features in the soundtrack- inspire a new and unexpected kind of femininity; youthful, strong, confident and polished.
Micro floral and geometric prints are transformed from pretty and bourgeois into sleek and modern. Blocked in opposite combinations and with tennis inspired contrast bindings they feature in figure hugging pleated georgette dresses and T shirts, calfskin coats, tough cotton gabardine and voluminous ankle length matalasse skirts. The new material of the season, Alcantara, treated like suede for glam military jackets, summer trench coats, blousons and smock effect pleated skirts. MaxMara's staple double face material is refashioned into fluid duster coats and cabans with the new feminine mood.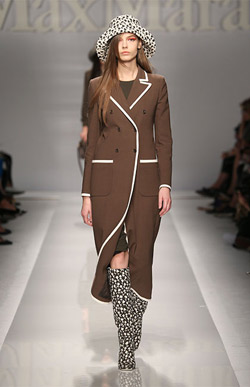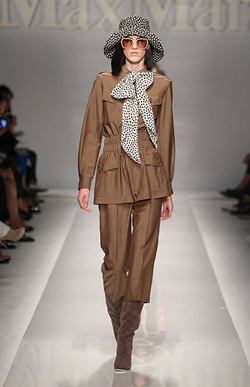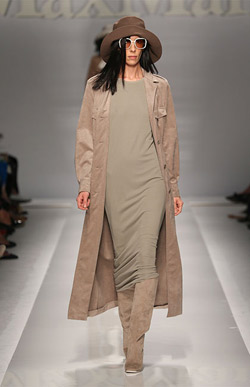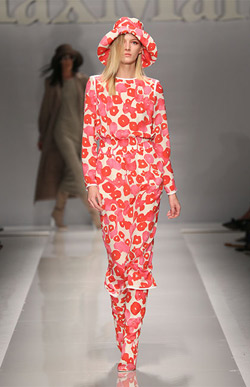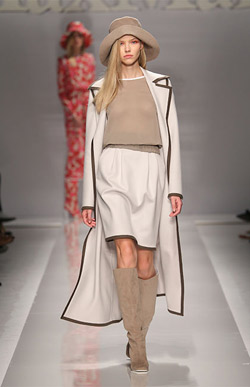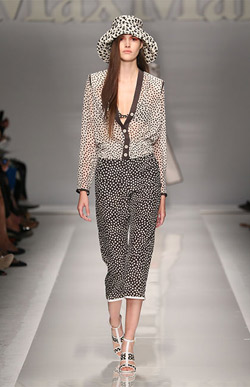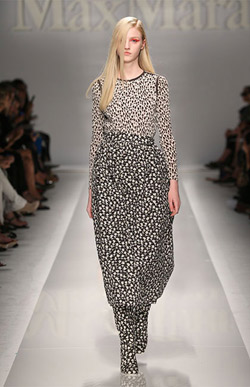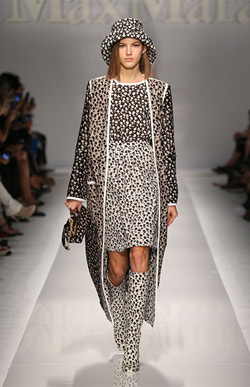 The silhouette is sinuous, but with a strong shoulder line. Hence the Gainsbourg style pinstripe linen jacket with its flirty skirt. The collection works in two lengths; above the knee and mid calf. For evening, the most feminine georgette is cut into military blousons and trench coats. Satin bound tuxedos , Alcantara wrap dresses with D ring belts also feature, all in black: 'dipped in darkness', the words used by David Bailey to describe Anjelica Huston's beauty.
Sandals and printed boots - the season's newest accessory- with lacquered white heels, the new bags and cloche hats punctuate the season's message.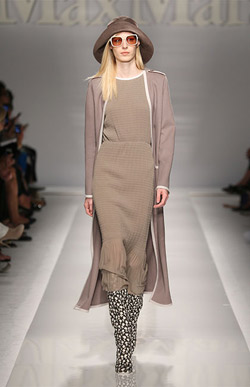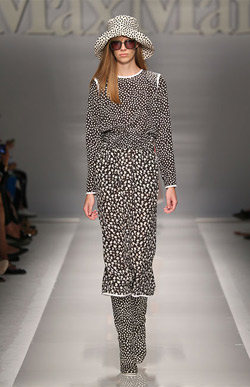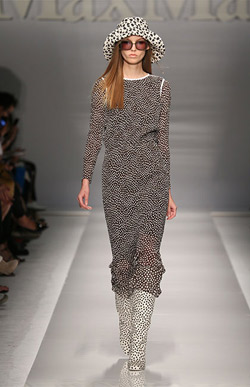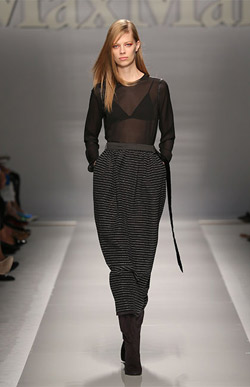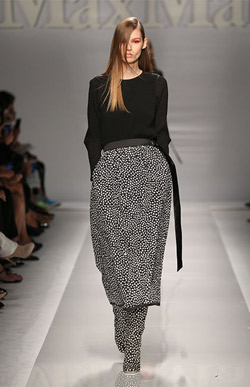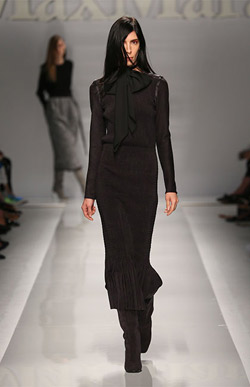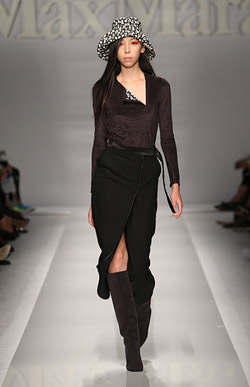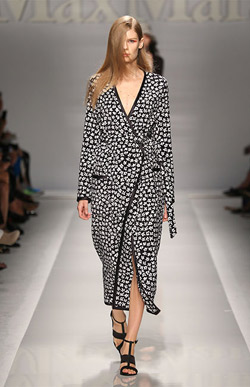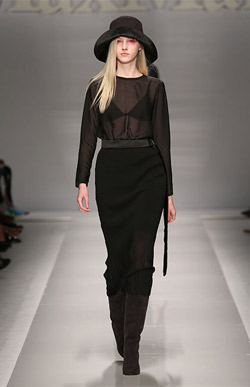 Over knits or over a coat in the same fabric it is a chic solution to unpredictable winters. The waistcoat also defines the newest jacket, the trompe l'oeil blazer. Not mannish but boyish. Nevertheless, the collection is sexy; there are no trousers, only calf length pencil skirts worn with sheer seamed stockings, for day and for night where they are combined with PVC backed tuxedos and black cabans. Textural knits, often mixed and layered. In feather light felted cashmere, in tweed effects, often with backs in surprising contrast materials.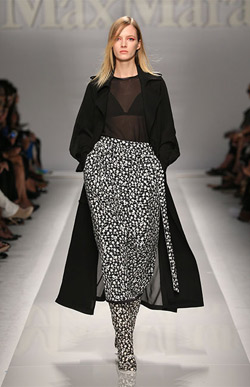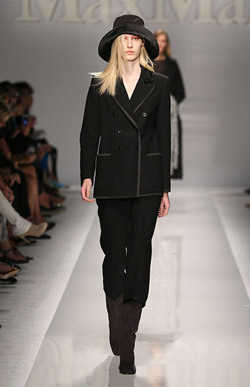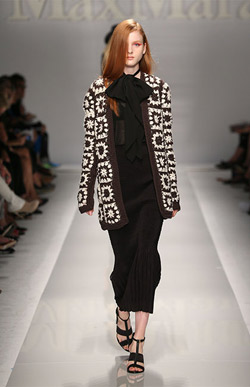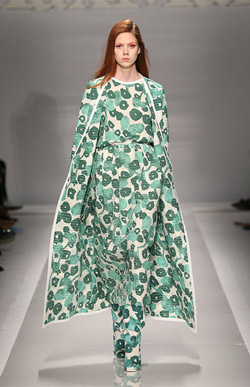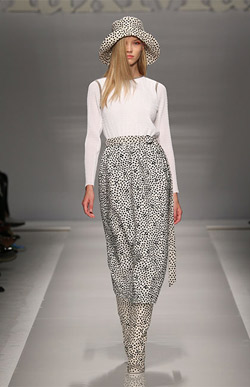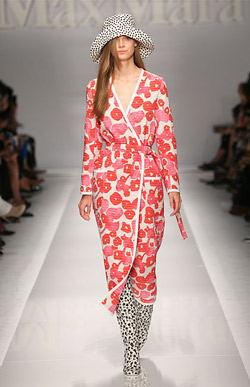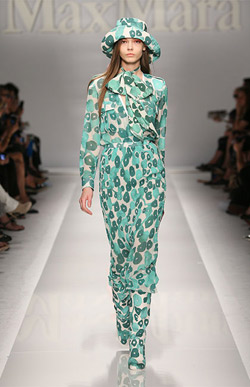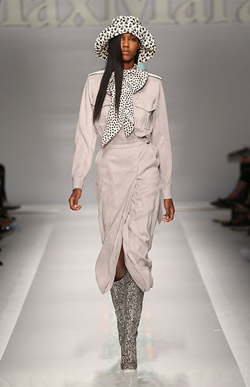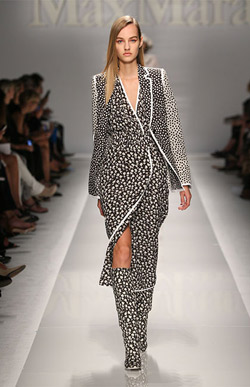 The palette: from lichen to heather, to the iconic camels, cash?, rust, London fog grey, salt and pepper and all black. Blue too, in denim printed with the Max Mara logo. From time to time a shot of gold in a crocodile print shirt or skirt. Glossy faux croc for accessories too. Like the JBag 'bauletto' or the new clutch with its bon ton chain. And for the shoes, low heeled pumps, hi-top boxeur style sneakers or chelsea boots. The final touch is the man's tie, used to cinch trench coats and the iconic Max Mara wrap coat, reinterpreting the great classic in the spirit of this collection.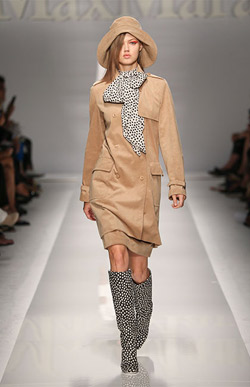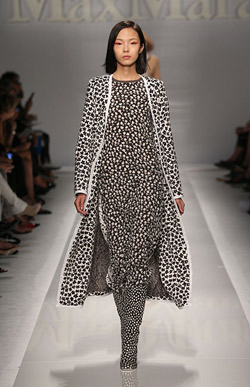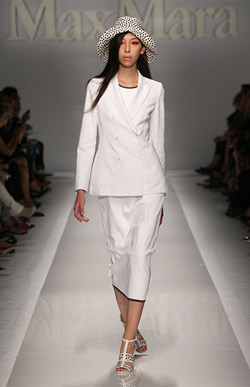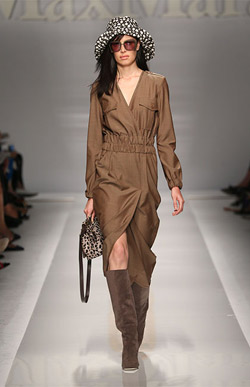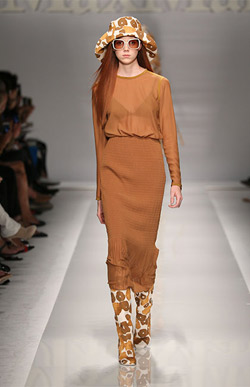 Photos and information: maxmara.com


Hits: 7685 | Leave a comment