Eucerin Anti-Redness relieves red face
Sofia, 19 February 2007 – In order to answer the specific needs of the consumers with sensitive and prone to redness skin, the science center of Eucerin® developed a new line of products Eucerin® Anti-Redness.

The products contain the active ingredient Licochalcone and correcting pigments, which relieve redness and give an even tan of the face.
Licochalcone A, derived from the root extract of the licorice plant Glycyrrhiza inflata inhibits pro-inflammatory cytokines, eicosanoids and reactive oxygen species in a number of human skin cells and relieves post-shave irritation and UV-induced erythema in vehicle controlled studies.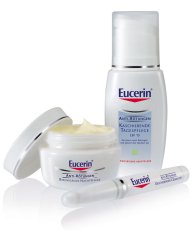 This means compatibility and efficacy of a regimen of skin care products containing licochalcone A for individuals with rosacea and persistent facial redness. Redness concealing properties,a reduction of erythema over time, and an improvement of the quality of life are demonstrated benefits in these patients. It is also efficient on redness due to sun, alcohol, stress, cosmetic interventions such as peeling or laser treatment.
Hits: 22649 | Leave a comment