Tag: 2003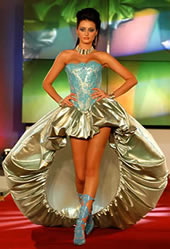 Competitions & awards
On great interest and very splendid and stylish passed by the official ceremony of 10th anniversary Bulgarian Fashion Academy Awards Zlatna Igla 2003 /Golden Needle 2003/. The gala-evening for voting and handing the most prestigious fashion awards in Bulgaria was on March 13th, 2004 in Inter Expo Center. The Fashion Academy /launched in 1993 in Paris by Donka Ganeva and Lubomir Stoykov/ proof that the most impartial assessment of the fashion design achievements belongs to the Fourth power - of the fashion journalists. And the winners are: Designer of the year and winner of Zlatna igla 2003 for personal contribution to the Bulgarian fashion design became Virginia Zdravkova /Virginia atelier/, Fashion house of the year – Agressia /manager Maja Asenova/, Fashion photographer – Valentin Mechanov and winner of the award for total contribution to the Bulgarian design - Bulgarian Fashion Forum in the face of its chairman Ivan Chalakov.

Models and photomodels
More than two weeks Elena Tihomirova, "Miss Bulgaria Universe 2003" is a part of the great experience called "Miss Universe". The final show of the competition is on the 3rd June and will be broadcasted live on NBC. In the prestigeous contest this year will take part 72 representatives from different countries.
Two of the preliminary rounds have passed - National costume and night dress. Elena was also interviewed by the jury. The dress, which the Bulgarian participant will wear on the 3rd June on the scene of Miss Universe, is designed by Maria Nedkova. The shoes, with which Elena will step on the unlikely sets of moving platforms, are specially made from the same textile as the dress by the Hinso-Rousse company.