Tag: Alya Milusheva
Trends
Fashion designer Alya Milusheva has told a fantastic bridal fairy-tale with her new VIP collection presented in Lozenetz residence on the last day of May.

The new collection "White Confession" interprets a legend about love and the magic of the wedding dress. Every taken shot of a dress was matching to the look of model who had worn it. The wicked seductiveness of Magi, the charm of Aksinia, the subduing innocence of Dilyana, the graceful sex-appeal of Yulia and the tempting charm of Desi were revealed and confessed in the bridal beauty and brilliance.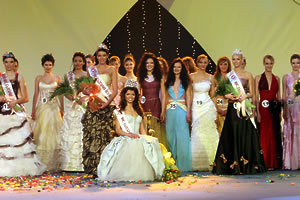 Competitions & awards
The competition "Miss Bulgaria 2006" chose for its designer Alya Milusheva-Dimitrova and Astella Atelier. The candidates for the prestigeous title were dressed in 36 unique toilets designed by Alya. The famous designer was also in the jury of the competition.

For the first time in the history of the competition for queen of beauty it took place in Plovdiv, not in the capital Sofia.