Tag: Antonia Petrova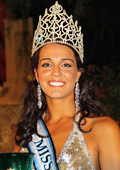 Competitions & awards
23-year-old representative of Gibraltar Kayane Aldorino was chosen as the most beautiful woman in the world for 2009.

The ceremony took place on 14 November in Johannesburg, South Africa.

The leggy brunette, dressed in white-lace evening gown, was crowned as silver confetti rained down onstage around her. Miss World 2008 " Ksenia Suhinova gave jeweled crown to the winner.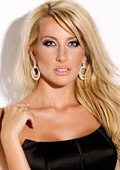 Models and photomodels
At the beginning of the year, with a magnificent ceremony on the stage of Rainbow Plaza, Antonia Petrova was chosen as the most beautiful Bulgarian woman for 2009.

Antonia is 25 years old from the town of Pernik. Speaks fluent English and Russian and has two higher educations in the field of international economic relations.

On December 12, Antonia will be able to demonstrate her intelligence and ravishing charm in the world's biggest beauty competition Miss World '09.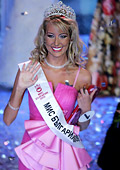 Competitions & awards
The new Miss Bulgaria is Antonia Petrova from the city of Pernik. The blond beauty is 24 years old and has two degrees in higher education - in Economics and Law. She will present Bulgaria at the contest Miss World 2009. The first runner up is Elitsa Lubenova from Dve Mogili, who is 18 years old. She studies in a school for folklore dances in Kotel, her dream is to dance on the scene of Bolshoi theater.

The title Miss Beauty of the World Bulgaria 2009 received the 17-year old Ruslana Kaneva from Sofia. She will present Bulgaria on the contest in China in April. Miss Tourism Planet is the 19-year old Polina Gergusheva from Sofia, who will represent Bulgaria in Athens. Polina writes music and wants to be a journalist.