Tag: Botanical Garden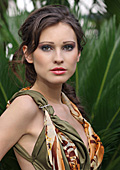 Competitions & awards
Twenty years old Birsen Mustafova became the first winner in the contest of Dir.BG - "Miss Paradise on Earth" for December.

The beauty was awarded with a photo session in the Botanical Garden of B.A.S.

Birsen was captured by photographers George Bojikov and Boris Bishkov of Hammer Studio - partner of Dir.BG for the contest.