Tag: Calendar
Lifestyle chronics
With its vibrant red color, intense aroma and inspiring flavour, Campari is popular around the world as an icon of passionate Italian style and excellence.
Campari's calendar is an artistic creation, sold in limited edition of only 9 999 copies to collectors worldwide.
Famous Hollywood actress Uma Thurman is the star of the Campari Calendar 2014, which will be captured by fashion photographer Koto Bolofo.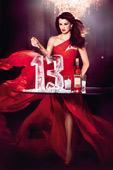 Fashion magazines and books
Taking the lead in this year's Calendar is beautiful Oscar winning actress, Penelope Cruz, whilst noted fashion photographer, Kristian Schuller, shot the intense imagery.

Set to take the audience on a stunning visual voyage, the 2013 Calendar showcases Campari's latest female protagonist in 13 vivid shots, as she engages with intriguing and mystical superstitions, such as black cats, broken mirrors, walking under ladders as well as walking on cracks.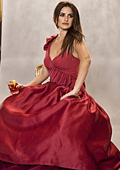 Lifestyle chronics
Today, Campari® is officially unveiling Penelope Cruz as the star of the 2013 Campari Calendar, which will be captured by Paris-based fashion photographer, Kristian Schuller. The beautiful Spanish Oscar winning actress takes the lead in the 2013 edition making her the 14th star to feature in the world renowned Calendar.

Penelope, who was the first Spanish actress in history to receive an Academy Award, is following in the footsteps of some of the world's most elegant women who have adorned the pages of previous Campari Calendars, including, Salma Hayek, Eva Mendes, Jessica Alba and Milla Jovovich.