Tag: Deichmann
Accessories
Since the spring/summer 2012 season, the Oscar-winning actress Halle Berry has been the face of DEICHMANN's premium brand, 5th Avenue, which she presents with the statement: "I love these shoes!". From 5 March 2013, her new TV spot will be appearing on German television and subsequently in most other European countries where DEICHMANN has a presence. This third spot is another declaration of love to the current models in her collection. The shoes will be arriving in stores at the same time as the start of the TV ads.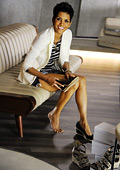 Accessories
Halle Berry created her own line of fashionable women's shoes in partnership with the popular German retailer Deichmann Shoes. The line is called "5th Avenue by Halle Berry" and is designed to fit the lifestyles and budgets of busy mothers like herself.

"Women have always loved shoes. It's like if your hair is not right and your shoes are not right, the woman is not right. If both of them are right, you're pretty much OK," Berry said in a statement report.