Tag: Dessislava Goranova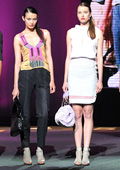 Competitions & awards
The winners of the 19th edition of Mittelmoda that took place in Gorizia on July 1, 2011 were 17 and came from all over the world. One of them was the Bulgarian designer Dessislava Plamenova Goranova. She was born on 12.07.1983 in Sofia and now studies at "Accademia di Belle Arti Lorenzo da Viterbo".

The other winners were :
Four Italians: Gea Antonini and Federica Croce from "Accademia di Costume e Moda", Petra Dorigoni from "Nuova Accademia di Belle Arti" and Federico De Peppo from "Accademia d'Alta Moda Koefia"....