Tag: Ellen von Unwerth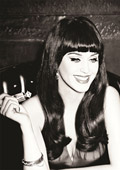 Health & Beauty
Katy Perry loved posing for more "natural" shots for her latest ghd 2012 campaign.

The 'Part of Me' singer is the hair styling brand's Global Brand Ambassador and the new black-and-white shots are less character-based than her previous campaigns.

Katy - who worked with photographer Ellen von Unwerth on the images - said...