Tag: Exhibition of Fashion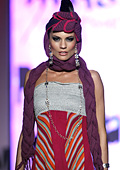 Fashion shows
From 17 to 20 July in Expo Guadalajara takes place Im Intermoda Mexico.

Intermoda IM is the most important event of the fashion industry in Mexico. It was established in the city of Guadalajara for 25 years.

The International Exhibition of Fashion in Mexico known as Intermoda, conducts two annual editions during the months of January and July, is also prepared to the best of the fashion industry, domestic and abroad at Expo Guadalajara, official venue of the event.