Tag: GB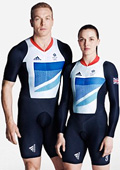 Fashion collections
Adidas and Stella McCartney officially launching The Kit - exclusive Olympic collection designed specially for Team GB. The collection design is inspired by the British flag. "The first place to start on a project like this is to look at the Union flag. For me it's one of the most beautiful flags in the world and it was important for me to stay true to that iconic design but also to modernise it and present it in a contemporary way", says Stella. She has accounted for everything, right down to the smallest of details.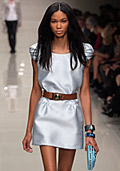 Fashion collections
Orange, lemon, lime green, cerulean, fuchsia and other happy hues made the runways come alive at London's Fashion Week.

"Right now, everyone's looking for colour, I think they're looking for optimism, more shape, less layering," commented Vogue editor-in-chief Anna Wintour for Reuters.

Paul Smith presented clothes in the colours of the rainbow, inspired by Congo, Nicole Farhi created cocktail dresses in orange and green, and one in neon yellow with a deep neckline.