Tag: German supermodel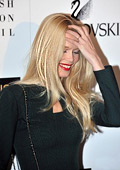 Models and photomodels
The German supermodel can't understand why some people decide to go under the knife as she would be worried about the impact it might have on her health.

She said: "I would never have plastic surgery, as I'd be worried about the long-term effects. Ageing is part of life and I think everyone must accept that looks will change."

To ensure she looks as good as possible, Claudia, 39, tries to eat healthily.