Tag: Gerry Doncheva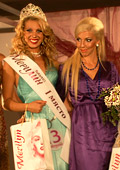 Competitions & awards
After a serious casting, only 15 beauties were chosen to hit the stage in the amazing show. The contestants competed in various rounds of the competition, even in a creative task, that the jury of pop-folk star Alicia, the top model Petya Velkova, Super Bianca and pop singer Lubo gave to them.

The girls fought with dignity for the awards and many prizes, which were provided by the main sponsors Marilyn slims and vodka Flirt, as well as MAX FACTOR, SHISEDO and the attractive watches ICE WATCH.
Models and photomodels
Today, on 15.02.2010, the models of Expose Model Agency - Yulia Yrevich, Gerry Doncheva and Emanuela Badeva, are departing to their participation at the Dubai Fashion Fiesta 2010.

For the presentation of the new collections are invited 16 world-famous professional models such as Miss England, Miss Germany and Miss India.