Tag: Intima Farae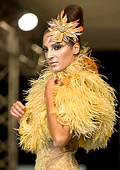 World fashion
From 9th to 11th March 2010 in Burgos, Spain will be held the XIIth edition of Castilla and Leon fashion week.

Collections womens, mens and children's clothes, underwear and swim wear, shoes and accessories for Spring/Summer 2010/2011 will be presenter by fashion brands and designers from Castilla and Leon, among which Maria Lafuente, Amaya Arzuaga, Esther Noriega, Ion Fiz, Nalia, Angel Iglesias, Javier Vicente, Anton & Moda, ORY, Teleno, Intima Farae, Evelyn, Lizetta etc.

Along with the fashion shows there is a commercial area, where the visitors and traders can see the collections closely, meet the designers and the managers of the fashion houses and make orders.
World fashion
During the second day from Castilla y Leon fashion week the spectators had the pleasure to view underwear and swimsuit collections as well as formal women's fashion. Collections evening and cocktail dresses for Spring/Summer 2010 presented Angel Iglecias, Eulalia Mateos, Fely Campo and Esther Noriega.

Underwear and swim suits presented ORY, Teleno, Intima Farae, Lizetta and Evelyn. Beside plain models, the trendy patterns are stripes, dots and animal prints.