Tag: Laura Biadgoti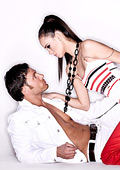 Models and photomodels
Martina Slavcheva, Miss sIren 2008, and Rumen Georgiev, Mister Bulgaria 2005, are chosen to be fashion faces of Dizi's Spring-Summer collection 2009.

The models made photos with the impressive clothes, shoes, and bags of the brand. Stylist photographers and make-up artists took care of their impressive look.

Dizi's proposals for spring-summer 2009 include all shades of blue, salmon colour, red and the classic black and white.