Tag: Marina Popska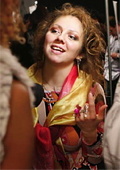 Fashion shows
Marina was born and raised in Sofia, Bulgaria. Her love of art and design began at an early age and was encouraged by her mother who was a professor of textile and fashion design.

Before entering the Master Degree program at Academy of Art University, Marina studied textile design at the School of Applied Arts and received a BFA and MFA degree from the National Academy of Arts in Sofia, Bulgaria.

For this collection, she was inspired by nature, humanity and the 'chaos' of color and texture. Marina's knitwear is a combination of various knitting techniques and yarn arrangements resulting in rich textures and the illusion of depth in her garments.