Tag: Marko Jaric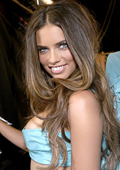 Models and photomodels
Adriana Lima gave birth to her second girl on Wednesday, September 12. The 31-year-old supermodel announced the news on Twitter. The girl is called Sienna. The first daughter of the model and her husband, ex-NBA player Marko Jaric is Valentina, who was born in 2009.

"The best job in the world for me is being a mom. I never thought I could love so much. I always thought, does unconditional love exist? Now I know it does because I feel it.", said the supermodel.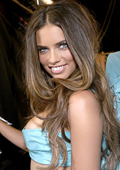 Models and photomodels
The Victoria's Secret model and her husband, basketball star Marko Jaric, have confirmed they will welcome their first baby into the world this winter.

Their spokesperson said: "Adriana and Marko are overjoyed that they are expecting their first child together and are excited to share the happy news and start their family together."

The couple - who married in a small civil ceremony in Wyoming on Valentine's day (14.02.09) after meeting in 2006 - are currently planning a big summer celebration of their marriage in either Adriana's native Brazil or her spouse's home country of Serbia.