Tag: Messalina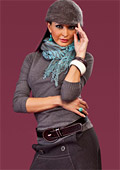 Accessories
Worn on all kinds of occasions, belts are a must-have accessory this winter. Almost universally made of leather, they are always delicately thin and elegantly complement the look of the woman.

During the day, you can double up the belt and sling it low on hips for more casual look. In the evening, however, is time for bold statement in terms of color and ornaments. Bejewelled and velvet belts add a touch of evening glamour.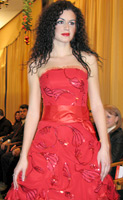 Fashion shows

On 20 December 2005 in the restaurant of the Danube Plaza hotel took place the Christmas show of Rousse Fashion 2005, organized by the Branch Union of Light Industries Producers - Rousse.

This third fashion show coincided with the celebrations of 110 years of the Rousse Chamber of Commerce and Industry and the Days of enterprise, which they organise.

Their collections presented the companies Arda, Ariston-S, Bordo, Geana, Markam, Messalina, Optima VKR, Saglasie, Politex and the Vocational school of apparel.