Tag: Orlin Pavlov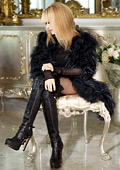 Fashion collections
Lili Ivanova, Alexandra Raeva, Anelia, Orlin Pavlov and Dr. Angel Enchev – those are the most elegant Bulgarians for 2012 according to the electronic magazine "Fashion Lifestyle Magazine" with Editor-in-chief Prof. Lubomir Stoykov.

The new winners of the prize "BG Fashion icon" for 2012 were chosen after online voting of the readers of the magazine, as well as from 40 leading Bulgarian lifestyle journalists and the editors of the magazine.
Models and photomodels
Orlin Pavlov entered the role of a refined gentleman in a stylish photo session for a furniture company.

The sparkling sea water, the beautiful smile and the light tones partner the young singer in the reconstitution of fairy summer mood. In some of the photos Orlin poses as sexy bold corsair.

He had exotic adventure on the sea coast, managed by the photographer Ognian Geshev

Orlin Pavlov is chosen for the photos, because he best describes the elegant, modern and sexy young man, who is suitable for presenting the mood of the fashion furniture and accessories.