Tag: Paris' Couture Fashion Week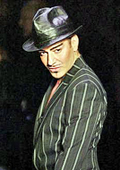 Fashion collections
The 'Fever in the Cabine' Christian Dior collection was inspired by shows put on in the 50s, and featured models in jackets and knickers, and skirts and bras.

Galliano was inspired by a picture of Dior backstage at a show surrounded by models hurriedly getting dressed.

He attempted to recreate the mayhem on stage, with the couture outfits available to order as sets.