Tag: Randy Jackson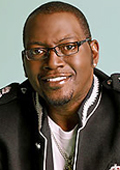 Fashion collections
The 'American Idol' judge - who rarely ventures away from his signature style of shirts, trousers and glasses - reportedly held a business meeting at the W Los Angeles - Westwood hotel to discuss creating a line of women's accessories.
A source told the New York Daily News newspaper: "Randy met with a PR agency to discuss how to market a new line of handbags, but he had to cut the meeting short to film 'Idol'."
Randy - who will have a six-month break once the current series of 'American Idol' finishes - is not the first celebrity to venture into women's accessories.