Tag: Romantika Fashion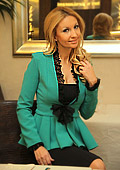 Fashion shows
Days before the spectacular show of Romantika Fashion on the occasion of the 20th anniversary of the brand, the top designer Sofia Borisova revealed the face of her Anniversary Collection. This is the business woman Yordana Dimitrova, Missis Bulgaria 2012.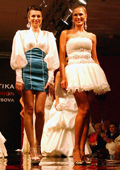 Fashion collections
Fashion house ROMANTIKA FASHION is on the fashion market 17 years already and has three own boutiques in Sofia and one in Bourgas.

Every year the chief designer of the brand Sofia Borisova prepares a fashion show and invites the fashion elite from Bulgaria. In January 2010 the designer presented her new collection Luxus couture 2010. The collection includes 3 lines - sport-elegant, formal and bridal dresses.