Tag: Tatum Keshvar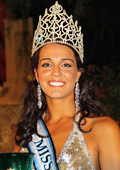 Competitions & awards
23-year-old representative of Gibraltar Kayane Aldorino was chosen as the most beautiful woman in the world for 2009.

The ceremony took place on 14 November in Johannesburg, South Africa.

The leggy brunette, dressed in white-lace evening gown, was crowned as silver confetti rained down onstage around her. Miss World 2008 " Ksenia Suhinova gave jeweled crown to the winner.