Tag: Tom Brady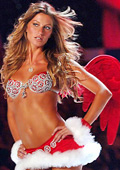 Models and photomodels
American football star Tom Brady, who married the Brazilian beauty in February, doesn't feel comfortable posing for photo shoots and hopes Gisele will boost his confidence in front of the camera.

He said: "When I am out on the football field I have so much confidence in what I am doing. With photo shoots, I don't know what I am doing. I'm at the whim of the photographer and the crew.

" I should probably ask her for some help. She does tell me to have fun and to approach it in the third person, almost like acting. She makes it look so easy."