Tag: Vayana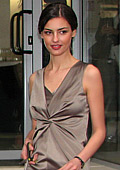 Fashion collections
Ruse fashion house Vayana has opened its new store in Ruse.
The new Spring-Summer 2011 collection was presented to a public of famous ladies, fans and customers.

Vayana is a trademark of "BTB Bulgaria" AD. It is on the market for 4 years. For the development of "Vayana" work Achim Bayer from Germany, as a conceptual engine and "producer", and a group of designers...