Tag: Winona Ryder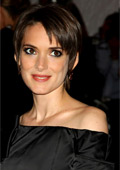 Models and photomodels
The 'Stay Cool' actress, 37, has amazed fans with her line-free face but her make-up artist insists her youthful looks are all natural.
Kim Collea said: "She hasn't aged and let me tell you, she has had absolutely nothing done.
"She is a very healthy eater, and I think that is a big part of it. It sounds boring, but the girl eats a lot of salads. And you know those giant Big Gulps cups that most people fill with soda? She's got hers filled with water."