Tag: adorned
Trends
2011 Golden Globe Awards captured every heart with eye catching, colorful gowns, seen everywhere on the red carped. One of the most repeated trend, that was everywhere was the green dresses fashion trend. Emerald green is coming back as we saw on the night of the awards, some of the celebrities in green includes Angelina Jolie, Catherine Zeta-Jones and Mila Kunis. Beautiful Angelina Jolie, sparkled in a sequined emerald green Versace gown, with long sleeves, bold shoulders and glittering beads.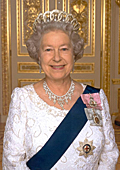 Lifestyle chronics
Real sensation in the fashion world has made the British Queen Elizabeth II, who appeared at an official reception during his state visit to Trinidad and Tobago live in a long snow-white lace dress embroidered with exotic birds and flowers. Dress of the British monarch designer Angela Kelly.

Elizabeth II is on the island nation, where the summit of the Commonwealth. In his work involved the Heads of State and Government of 53 countries which have close historical ties with Britain.

Witnesses say that the leaders of many countries were shocked when the last Friday in the hall, which hosted the gala dinner, became Queen Elizabeth II in an unusual dress of the monarch. The hem of her snow-white lace dress adorned with two bright birds – ibis, symbols of Trinidad and Tobago.