Tag: batik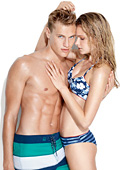 World fashion
JUNGLE FEVER - Bold colours teamed with natural shades give an exotic air to bikinis, cover-ups and men's boxers. Turquoise and brown or beige and magenta create tranquil contrasts, perfect on reversible swimwear. Floral and geometric patterns can be freely paired with irregular stripes. The "fluid" look of viscose creates soft draping on asymmetric cover-ups.

CRUISE TIME - A sophisticated style expressed through two-piece swimwear and cover-ups in dress or maxi playsuit styles. "Neo-batik" blue and white are the prominent colours in a story where purples and taupes also play a role. Beads and metallic or translucent appliqués add a precious touch.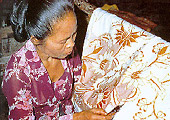 Business news
Batik is one of the Indonesian method of printing textile. This is a modern and cool way to dress up. Batik, is something different and it matches all styles and fashion.The word comes from the Javanese word "amba", meaning "to write", and the Indonesian word for dot or point, "titik". The technique is thought to be over a thousand years old, and historical evidence demonstrates that cloth decorated with this resist technique was in use in the early centuries AD in Africa, the Middle East, and in several places in Asia.