Tag: bodycon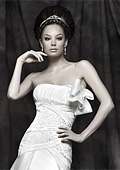 Trends
For the world's leading designers, the idea of a wedding dress is associated with luxury, airiness and indescribable femininity.

This is evident from their bridal collections. A wonderful option to be elegant and seductive on your wedding day is to select a dress, showered in the Hollywood glow of the 50s.
Catwalks don't stop to impress us with the sophisticated and glamorous models like the ones, shown on the red carpet.